USG People and Mysolution meet in a brand new partnership! The second largest supplier of HR services in the Netherlands, from January 1, 2019, will be transferring with confidence to the fully integrated and standardised solution for all its front and back office processes. Mysolution will accelerate, simplify and optimise the work of the USG People consultants: one way of working.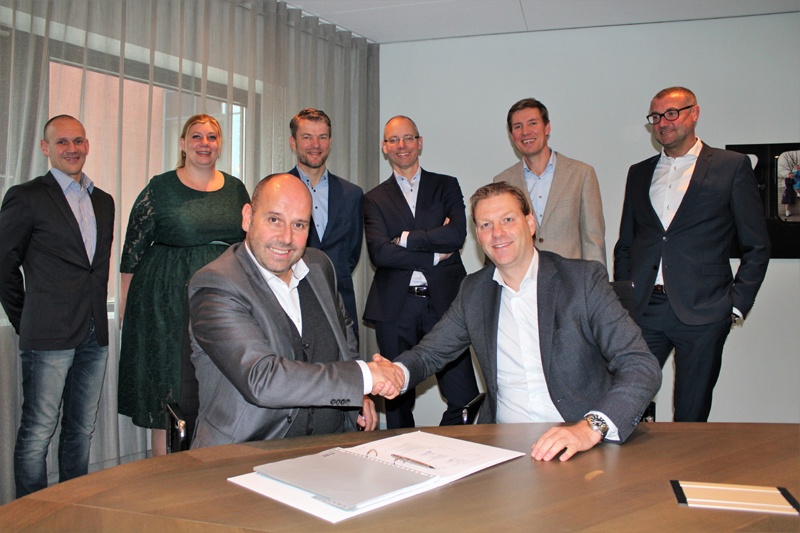 Jan Beekman (Managing Partner Mysolution) and Johan Bogaard (CFO USG People) seal the collaboration with a handshake.
With the switch to the Mysolution solution, which runs on Microsoft technology, USG People can increase productivity. USG People has already been working closely with Microsoft. Johan Bogaard, CFO at USG People: "With Mysolution our consultants can work in an accessible and efficient way. Apart from the attention paid to lower costs, my concern is that our colleagues in the field are happy and that the tool they work with supports and motivates them to help clients and candidates as much as possible. Mysolution will contribute to this. All processes will soon be within one software solution: time registration, compensation, invoicing, portals. And everything runs on the Microsoft platform."
Fast anticipation
The market conditions require an IT landscape that fits the principles 'faster, easier and closer', says Bogaard. "Agility and low costs are important factors. Speed and simplicity in our front and back office processes contribute to this. With Mysolution, USG People remains agile and up-to-date, using the latest technology. Mysolution can handle the scale of USG People and enables us to grow."
Happy flow
The Dutch branch of USG People is on the verge of one of the biggest transitions ever in its IT landscape. "This is really a major project", Bogaard continues. "Not only because of the implementation of new technology, but precisely because of the complete mind shift with all colleagues that will work with the new application."
"The choice for Mysolution fits our mission", explains Bogaard. "People who want to work through us are free to pursue their passions and ambitions. And that is possible thanks to our support. We want to offer 'Opportunities for Life', faster, surprisingly simple, and closer than ever before. Mysolution ensures that our consultants in the field can do this in the most optimal way possible. I can assure you: we cannot wait to get started with the new applications."
Crowning achievement
The mood at Mysolution is equally positive. Managing partner Jan Beekman "After 13 years working in this industry, this is the jewel in our crown. USG People is a great customer for us. The number two of the Netherlands in its branch. We demonstrate that total integration of all processes can also be realised on this scale."
About USG People:
USG People Nederland is a leading HR service provider in the Netherlands, active with brands such as Start People, Unique, USG Professionals and Secretary Plus. USG People Nederland is part of Recruit Global Staffing, one of the largest HR service providers worldwide with activities in Australia, Asia, Europe and North America. Every day, more than 400,000 employees work at companies and institutions via the Recruit Global Staffing network.