Mysolution was once again present as a partner at the largest Dynamics 365 Business Central event of the year, namely the Directions EMEA. The 3-day event took place in The Hague this year and attracted more than 2,200 visitors from 65 different countries.
Dynamics 365 Business Central
Wait, this is not a NAV event? No. This year, the launch took place from the next generation of the product, including a rebranding of Dynamics NAV (formerly Navision), to Dynamics 365 Business Central.
As the name suggests, Microsoft positions its product more centrally within the organisation, and for example the name is not 'Business Financials'. This does not mean that Microsoft adds all sorts of other modules, but still leaves it to partners to make it a broader or specific (branch) solution.
Mysolution as an extension for Business Central
What does this mean? Basically, Business Central can be translated to NAV in the cloud. The pillars for this transition are: Modern, Unified, Intelligent and Adaptable. Under the hood there are a lot of major changes, just to make the product ready for the future. For example, Mysolution has to make all adjustments from the source code, and by means of so-called event subscribers to hook into the source code if necessary. In this way Mysolution becomes an extension on top of the standard Business Central. In the AppSource of Business Central extensions are then available to add to your own Business Central, for all kinds of applications. Microsoft therefore continues to provide the platform with innovation, integration with other products and solid financial administration. But it is precisely the various extensions of partners that ensure that Business Central actually becomes more central within organisations. To date, approximately 150 apps are available for Business Central in the AppSource.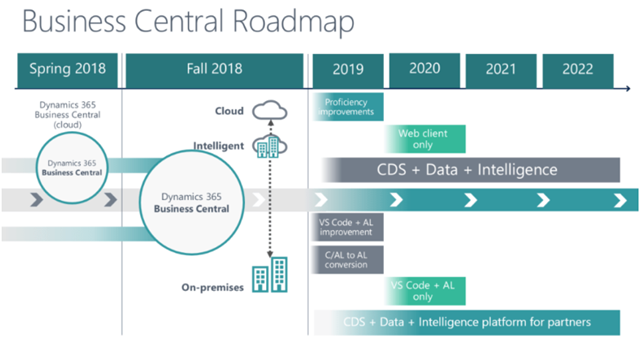 Future of Business Central
The Business Central roadmap is visible in the image above. To once again underline that Business Central is the next gen version, there is still a major change taking place, namely the transition from programming languages C/Side and C/AL to VS Code and AL. Fortunately, for Business Central not all code has to be converted immediately, but this process can be spread over 2 years whereby Microsoft will provide intensive support with a special 'Ready to Go' program.
Another change that can be directly noticed by users is the completely renewed clients. Microsoft has invested a lot of energy in a complete redesign of the client, where the new technique must ensure that all necessary actions can be taken in the web client, such as copying and pasting multiple lines. The new client also lends itself much better for integrations with other software, such as Power BI, within the client. The traditional Windows client will be phased out over 2 years.

Cloud and artificial intelligence
For the time being, Business Central will continue to be offered both in the cloud and on-premise, but the emphasis is clearly shifting from on-premise to the cloud. The cloud will also become the central hub for the intelligence within Business Central. Based on the data storage in the cloud, several methods can then be released using artificial intelligence tools such as Azure Machine Learning on the data, the insights of which will be communicated back to Business Central. Furthermore, the Azure platform Common Data Service offers possibilities to unlock data from various sources, and then use it for further analysis with Power BI or building an app with PowerApps. With a view to the future, Microsoft expects that 'the power of the future is in the data', whereby the developments in the field of artificial intelligence in terms of impact on the business will be just as great as the cloud movement currently is, so AI as 'the next big thing'.

By Hylke de Haan
Product Owner